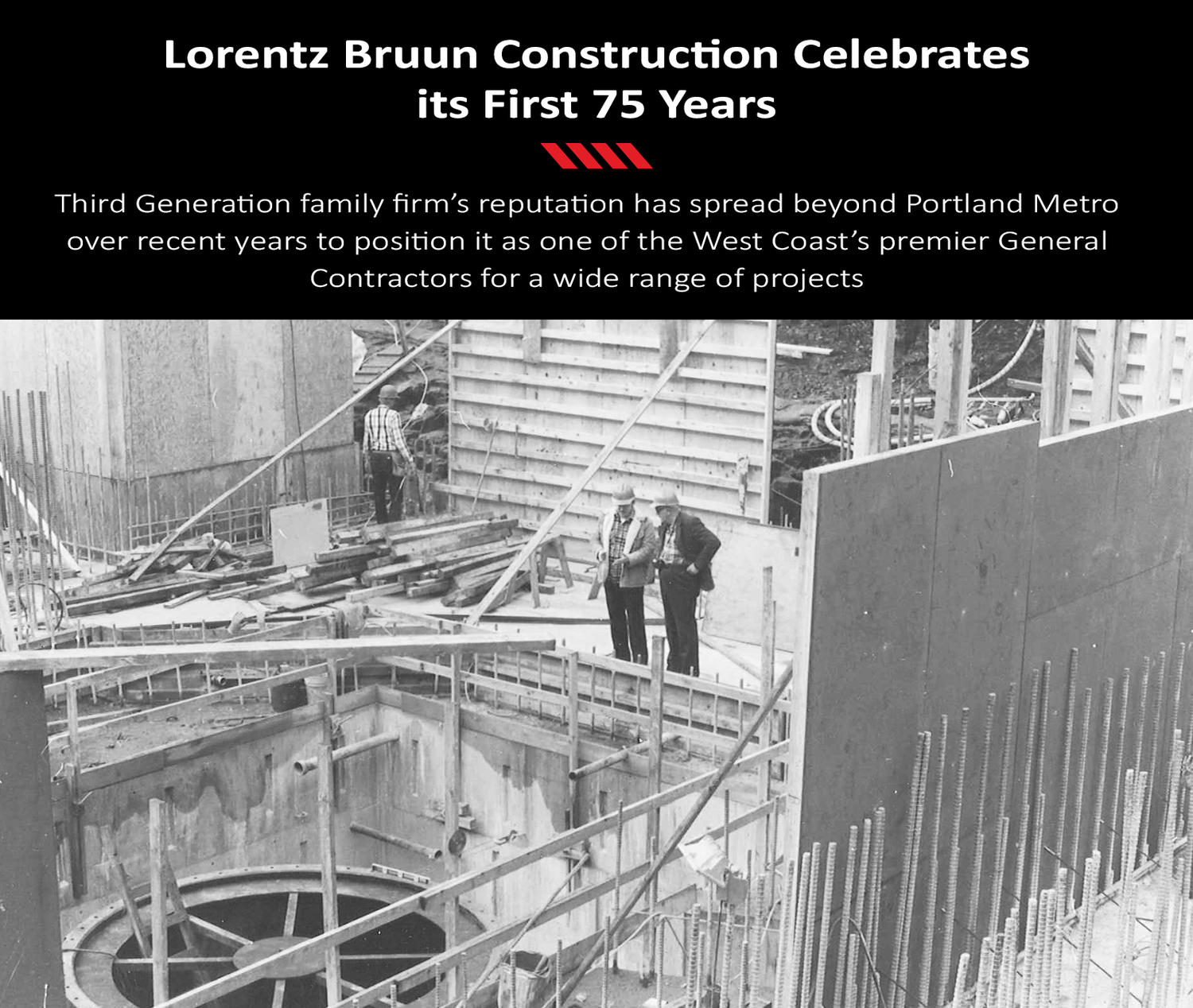 PORTLAND, April 7, 2021 – Lorentz Bruun Construction, one of the Pacific Northwest's premier general contractors, is also one of the longest operating companies in Portland. This year officially marks the third-generation family-run company's 75th year in business and the company is celebrating the milestone with a look back at its history and the many quality projects it has delivered over the years.
Lorentz Bruun, a 39-year-old Norwegian immigrant, founded the firm that still carries his name in 1946 when Portland, like every other city in America, was recovering and rebuilding following WWII. When Lorentz passed away in 1973 his son, Kelly, took over the firm. Today, it's run by Lorentz's grandchildren: Mark, Kurt and Erik, to whom Kelly passed stewardship of the company upon his retirement.
Notable firsts
Along the way, Lorentz Bruun Construction has been involved in some notable firsts. In the 1950s, the company pioneered new construction techniques completing one of the first concrete tilt-up construction projects in Oregon. LBC also completed one of the first lift slab construction projects, on the campus of Oregon College of Education (now, Western Oregon University). In 2014, LBC was general contractor on the first energy efficient multi-family passive house project in North America, the GBD Architects-designed Kiln Apartments at 33 Beech Street.
Disaster relief
Through the last 75 years, the company has also been a major participant in regional disaster relief efforts, helping to rebuild parts of downtown Roseburg after a devastating truck explosion in 1959, pitching in to help Portland recover from a destructive wind storm caused by Typhoon Freda in October 1962, and speeding repairs of the tornado-damaged Peter S. Ogden School in Vancouver in 1972.
Infrastructure
The firm has handled its fair share of major infrastructure projects over the years. In 1985, Lorentz Bruun completed the Broadway Bridge renovation project in Portland and, in 1990, was called upon to work on a 70,000 s.f. lift gate maintenance facility at Bonneville Dam. In the 1960s, the firm was general contractor on several student housing projects for the Oregon State Board of Higher Education.
And, LBC's reputation and expertise has often been called upon to solve construction problems. In 2009, LBC was on hand to perform repairs at Collins Lake Resort, then Oregon's largest construction defect project at the time.
Expertise over broad range of projects
LBC's depth of expertise has continued to develop and the firm now regularly handles GC duties for a broad range of projects from ground-up construction to seismic retrofits, renovation and tenant improvements of residential and commercial buildings to infrastructure construction and repair. Its experience ranges across the spectrum of properties from affordable housing and residential construction to office, industrial, retail as well as civil buildings and specialty properties such as life science and healthcare real estate, breweries and hotels.
In expanding its expertise, it has also spread beyond Oregon and has worked on projects throughout Washington, Idaho, Montana and California.
The firm completed its 10,000th project in 1995 and, in recent years, the firm has worked on some very high-profile projects including renovating Portland's Rose Garden (later the Moda Center). LBC completed the renovation of the KOIN Tower in 2017 and the historic US Customs House in 2015. Current projects of note in the Portland metro area include 808 on Alder, a life science lab project in the Eastside Innovation Corridor; Water Tower, a two-building creative office renovation in Johns Landing; a new emergency and specialty hospital for pets in Vancouver; and Fountain Place Apartments, a 74-unit apartment renovation. The firm recently completed a seismic retrofit of the Leftbank Building at 240 Broadway.