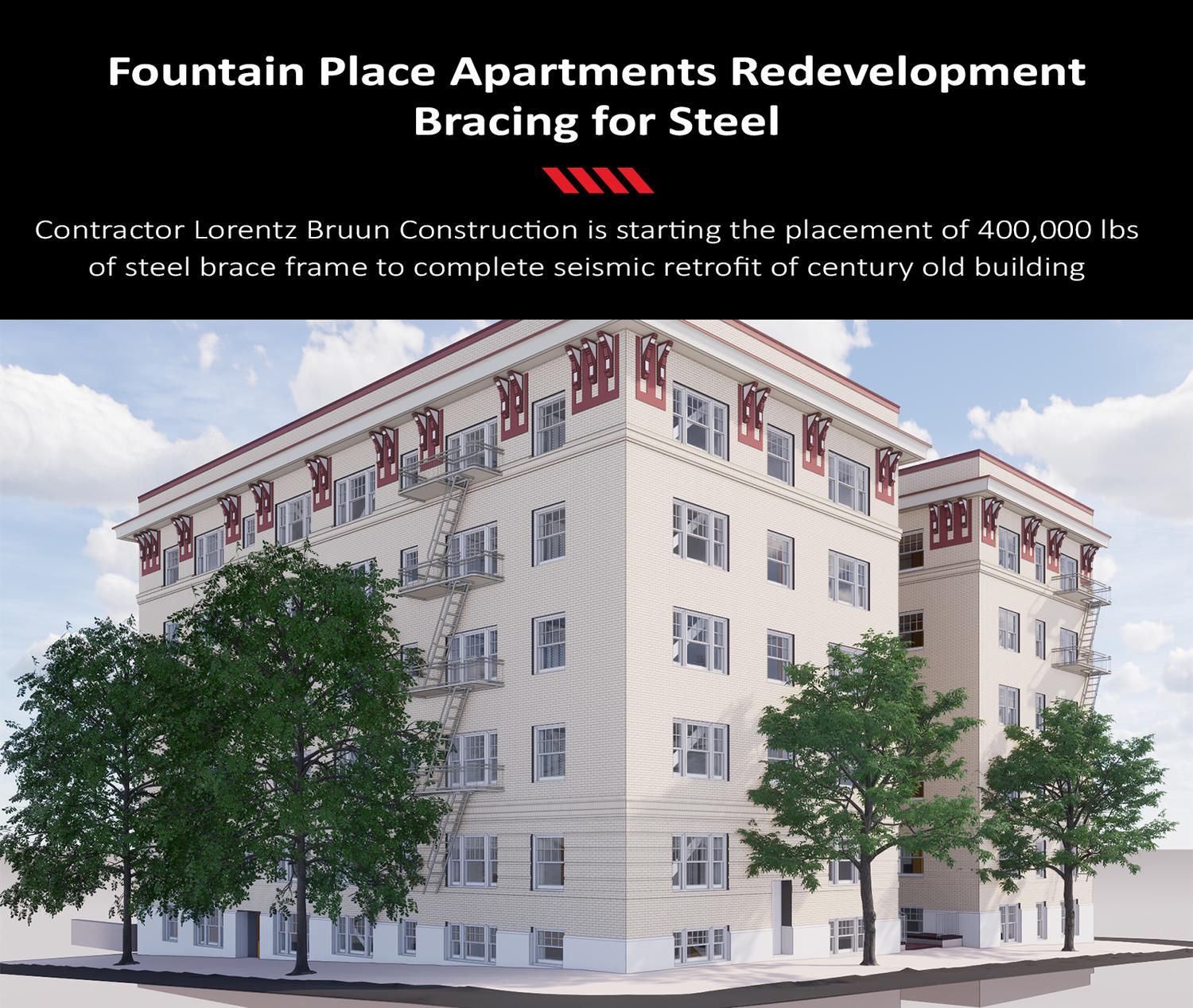 Portland – June 07, 2021 – Further relief is near for Portland's tight affordable housing market as construction draws to a close on Home Forward's renovation of Fountain Place, a 74-unit historic multifamily residence at SW Salmon and SW 10thAve. in downtown Portland.
The redevelopment, which began during the early days of the pandemic, is on track for completion later this fall thanks to the hard work of the core design-build team of Lorentz Bruun Construction, Peter Meijer Architect, structural engineer KPFF, Mechanical plumbing engineer GLUMAC and affordable housing design specialists Salazar Architect Inc.
"We appreciate Lorentz Bruun Construction and Peter Meijer Architect for their work on this project; especially while we've all been living through an extremely stressful year," says Home Forward's Executive Director, Michael Buonocore. "We are looking forward to safely completing these important renovations that will ensure we continue to house some of Portland's most vulnerable neighbors for generations to come."
Contractor Lorentz Bruun Construction this week is working on the placement of almost 400,000 pounds of steel brace frames within the six-story structure.
"The steel brace frames are a major component of the seismic retrofit for Fountain Place and we will also add further stability to the building by using two layers of plywood flooring on each floor and at the roof to create a high load diaphragm to transfer lateral movements, such as shaking from earthquakes, from the floors to the shear walls of the building," said Mark Bruun, president, Lorentz Bruun Construction.
Built in 1911 by local millionaire and salmon cannery owner Frank M. Warren (who died the following year as a passenger on the Titanic's doomed maiden voyage), Fountain Place is one of the earliest examples of high-end apartment construction in downtown Portland and was also one of the first 'U'-shaped buildings to be built in the area. As part of the project, on March 4, 2020, the building was placed on the National Register of Historic Places.
Fountain Place is also a predominantly wooden structure so the team had to use bolted rather than welded connections throughout to minimize the risk of fire during construction.
A major part of extending the operational life of the existing building is the seismic upgrade which has been designed to afford structural safety to future occupants and extend the life cycle of the building for another 50+ years, according to the design team. Residents will also have a new egress stairwell, new kitchen cabinets, flooring and plumbing fixtures and a new fire alarm system is being installed.
Halla Hoffer, associate principal, Peter Meijer Architect, said that retaining the historic character of the 100 year-old building while adding several future-proofed improvements was a major goal of the project. "This building is an important part of Portland's architectural history and this renovation and seismic upgrade will carry the building's heritage forward while providing its residents with new electrical and plumbing systems, a new elevator and a new community room," she added.
The Fountain Place renovation project was made possible with financing from Oregon Housing Community Services, Banner Bank and US Bank.