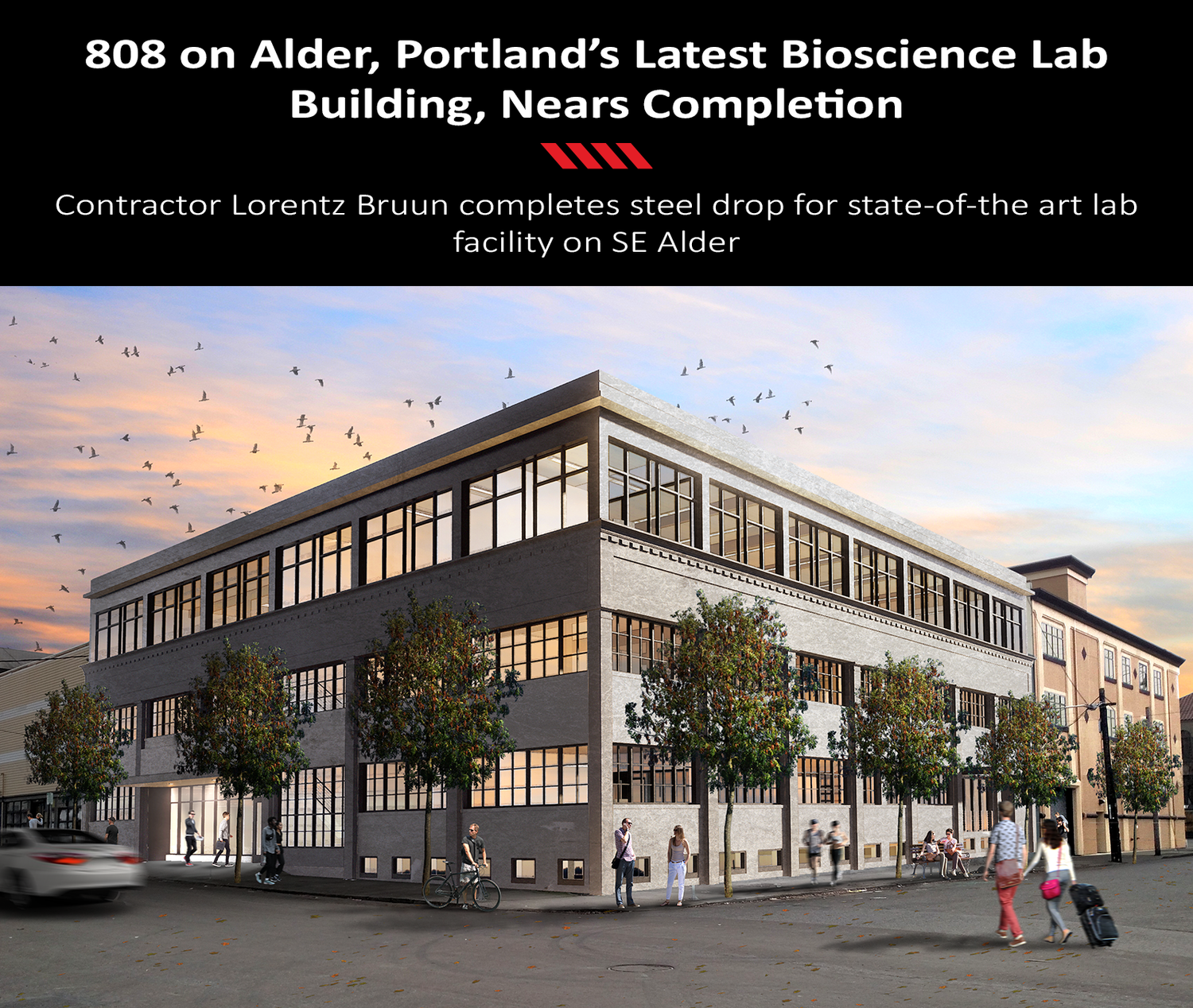 PORTLAND – March 3, 2021 – Portland's ever tightening bioscience real estate market will receive a much-needed boost next month with the completion of 808 on Alder (https://808alder.com), a 37,000 s.f. facility developed by Summit Development Group at 808 SE Alder in the city's Eastside neighborhood.
Lorentz Bruun Construction began construction last March and, despite the COVID-19 pandemic, is on course for completion of core and shell construction next month. Earlier this month, the general contractor finished dropping steel for a new steel skeleton for the three-story renovation, making the more than 100-year-old former warehouse building compliant with current seismic code.
"There are always tremendous challenges associated with retrofitting and maintaining the architectural integrity of a historic building," says John Falconer, VP of Design and Development for SDG. "We've accomplished that with our design while also upgrading the facility to increase square footage and meet the most stringent use specifications for BSL-2," he added.
Marty Surby, Summit's Director of Construction added: "This project has been an endeavor from Day One, and without the efforts of Lorentz Bruun and Hennebery Eddy Architects, we would not be where we are today."
According to Erik Frame, Lorentz Bruun's project manager for 808 on Alder, the COVID-19 pandemic forced the general contractor to quickly adapt to new safety and health requirements but construction remained on track regardless of the slowdown in some City permit processes.
"Despite the many wrinkles and complexities involved in the adaptive reuse of a more than hundred year old building, and a major health pandemic to navigate, this project has been a pleasure to work on and a testament to the professionalism of a great development and design team," said Frame.
Construction involved leveling the original two-story structure, which had a six-inch height difference from end-to-end, adding an additional floor to the building, and making the existing basement occupiable. Upon delivery of the core and shell next month, 808 will be ready for tenant improvements. Wet lab space on the first and second floors will be roughed in with an acid waste system to dilute waste products before entering the City's sanitation system and stainless steel ducts to accommodate advanced lab hood exhaust systems. The third floor provides open plan creative office space but can also be converted to lab as well with plumbing and mechanical rough-in stubs incorporated into the core.
In addition to its state-of-the-art lab features, Eastside Innovation will also feature an abundance of natural light and a green roof designed to help moderate the building's interior temperature as well as manage stormwater runoff quality.
808 on Alder was designed by Hennebery Eddy Architects. Josh Bean of ETHOS Commercial Advisors LLC is the exclusive leasing agent.